High level is the signal input to the REL derived from the speaker output terminals of the system's amplifier and it has a high amplitude and dynamic range. The Low level signal can be obtained from the pre-amp connections of a pre-amp or processor.  This signal conforms to the standard -10dB level associated with consumer electronics.
On a REL Sub Bass System, the High/Low Level control adjusts the gain of these inputs.
When using a REL, this channel's input can be either high level or low level, never both. For this reason the High Level Speak On input and the low level RCA input are summed together and are controlled by this one level control (along with the Crossover).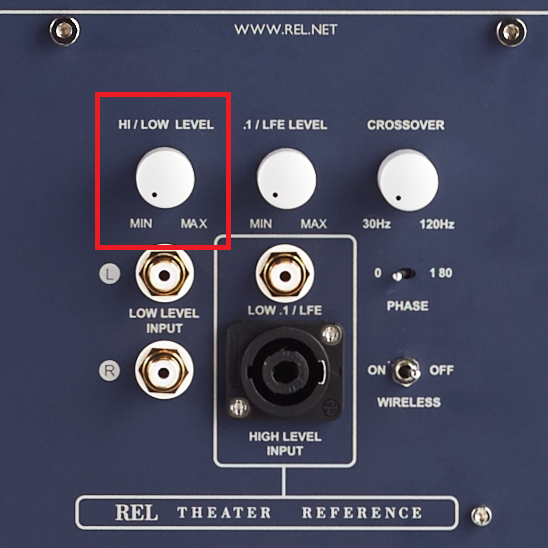 REL controls have detents you can feel when rotating them. We refer to these as clicks and use them to guide positions of these controls. 
In our experience, it is best to start the High/Low level control 15 clicks from the minimum setting. For a majority of systems, the final set point of this level control will be within + or - 1 to 3 clicks of this starting set point. 
If you are finding that you need to set the High/Low Level control to be above 20 clicks there is likely problem with your setup. 
The REL could be:
Out of phase with the main speakers so together they are cancelling the sub bass frequencies.
Not in the optimum place so that it is not effectively pressurizing the room.
There is a problem with the input connection so there is not enough input signal to get amplified.
In rare cases, the shape or size of the room necessitates this high of a setting.