Who doesn't love Sonos? After all, the Sonos Wireless HiFi System delivers all the music on earth, in every room, with warm, full-bodied sound that's crystal clear at any volume. How could it possibly get better?
As good as the Sonos system is, we wondered if they were compatible with REL's vaunted High Level Connectivity and, if so, could you hear a real difference? The answer is "Yes" and an emphatic "YES!!!" for sound quality upgrades.
We chose the SONOS CONNECT:AMPTM partnered with REL's all-new T/5i, T/7i and T/9i reasoning that these reasonably priced models would be the most likely to be partnered with a Sonos system. REL's core models–the T/5i,T/7i and T/9i– sailed through the test with no hum, no funny noises– absolutely seamless integration when connected High Level. Even when the Sonos went into Sleep mode, the REL trio worked perfectly. And what a difference in sound quality!
Using a pair of classic Sonus Faber Concertos, all three RELs immediately opened up the sound lending warmth, body and palpable space to what was already a wonderfully full-bodied speaker. For a smaller room, the little T/5i added the solid heft and tunefulness its predecessor was known for with newfound agility and speed. The T/7i proved revelatory; while its
predecessor was arguably the most balanced of the trio, the new T/7i possessed of an almost-vicious speed, extension and slam that had us checking some of our bigger models to make sure they hadn't accidentally been left on. An absolute mini-monster. Finally, we dialed in the T/9i and heard the power and authority that the 9's have always shown and, like the T/5i, a newfound speed, agility and expressiveness that left us smiling.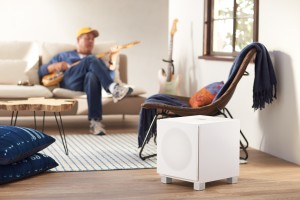 If any customer is looking for a painless, 5-minute-to-install improvement (ok 10 if you're a slow reader) that provides across-the-board sonic improvements to the performance of virtually any Sonos system (oh my goodness, if it improves heavyweight performers like the SF Concerto, can you imagine what a REL would do for something like a decent in-ceiling or in-wall?) look no further than the new T/i from REL.
We've left out one important aspect. While too many subwoofers still seem to be designed and built using a chain saw, the visual pairing of the REL/Sonos pairing make for a beautiful visual ensemble. This point matters because we've noticed that due to space constraints, subwoofers are often left in close proximity to the Sonos. Why buy a beautiful, world class piece of design work then let the whole effect fall apart by adding a sub in which design was clearly an afterthought?
QuickTake™: Incredible performance enhancement with no side effects, total compatibility with the industry leader in wireless streaming audio systems; the pairing of REL T/i and Sonos may just be that rare match made in heaven.